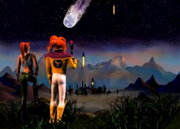 The Rocket was a form of space transport that appeared in Pandemonium 2.
Appearance
Edit
They are used by Queen Zorrscha and her Goons as transportation to reach the Comet of Infinite Possibilities.
Several could be seen in the opening and one appears in-game at the end of Hot Pants and at the beginning of Stan's The Man.