Crystal Dynamics are a video games developer and publisher founded in 1992.
They were the company that developed Pandemonium 2, they also published the first Pandemonium! game for Toys For Bob.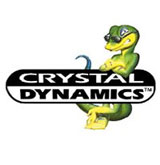 Notable games series that the studio have developed include Gex and Legacy of Kain. Although they weren't directly involved with developing the first Pandemonium! game, they did port the game to the PC, and acted as publishers for the other platforms. Pandemonium 2 was developed solely by Crystal Dynamics, and was published by Midway Games in North America, BMG Games in the EU, and Bandai in Japan. Crystal Dynamics published the PC version of Pandemonium 2.
As Pandemonium was the then-property of Crystal Dynamics, they were able to use Pandemonium protagonist Nikki in other works. She made a cameo appearance in the Crystal Dynamics game - Gex: Enter the Gecko.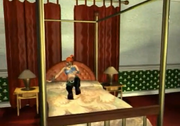 Crystal Dynamics went on to develop games for the Tomb Raider series. They were entrusted with the continuation of the franchise following the original developers' failure to create critical or commercial success for the franchise following Tomb Raider: The Angel of Darkness. Crystal Dynamics later rebooted the Tomb Raider franchise in 2012; the title was met with critical acclaim.
In 1998 Crystal Dynamics were acquired by EIDOS Interactive, and in 2008 Eidos Interactive was purchased by Square Enix.